Working together to stop the spread of COVID-19 in Cheetham & Crumpsall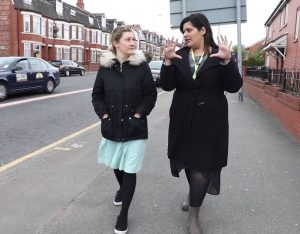 Cheetham and Crumpsall comes together
In August cases of Covid-19 were increasing in Manchester and new lockdown measures were introduced across Greater Manchester. It was a stark reminder that Coronavirus is something that we are going to be living with for some time.
Every new case means there is more chance of it spreading wider in our community and of people we know and love becoming seriously ill.
North Manchester was an area that had seen a spike in cases so it was really important to ensure we supported the community by getting messages out quickly and working together to ensure the right information was out there. It was a great team effort with so many members of the local community and children and parents from Abraham Moss Warriors Junior Football Club helping out.
Within a few days, our neighbourhood partnership team was out talking to people in shopping areas and providing leaflets and clear information on the new lockdown rules and the things that we all need to be doing to stop the rise.
A number of local people and groups also quickly worked to create videos with messages to help spread the word.
These included coaches and players from Abraham Moss Warriors, Dr Ahmed from Cheetham Hill Medical Centre and Crumpsall elected member from the council, Councillor Nasrin Ali.
"It was brilliant to see our community come together as one," said Lizzie Hughes, Integrated Neighbourhood Team lead for Cheetham and Crumpsall, "It was really important that people had clear messages and we were able to talk to people and explain why it was so important to make sure we were all doing everything we could to stop the rise.
"I'd like to thank everyone who helped and listened. It's helping keep everyone in our neighbourhood safe."