Work With Us
Join us now, and you'll be at the forefront of a pioneering community system as well as being a valued team member with one of the largest NHS Trusts in the country and two pioneering local authorities.
As the largest example of an integrated health and social care workforce under one organisation, we offer a full range of NHS community and local authority adult social care roles. These include district and community nurses, social workers, health visitors, reablement staff, therapists, care staff, support staff and many other health and care professionals.
Within the LCO, all of our teams work together as part of one single organisation so that care is better coordinated to suit people's needs. This includes the development of a range of new ways of integrated working in the community. Ours is a truly integrated system designed to benefit both service users and staff.
Working in Manchester and Trafford
Manchester and Trafford are great places to work and build your career. Often named as one of the most exciting cities in the world, Manchester is also one of the fastest growing economies. As well as everything the city offers in terms of arts, entertainment and family activities, we're a short journey from stunning countryside and even the coast. Trafford is located to the South of Manchester and includes the towns of Altrincham, Timperley, Sale and Stretford.
Do you want to be part of innovative system-wide changes currently taking place to deliver first-class acute care in a patient's home? If so the new Hospital at Home service (H@H) could offer an exciting opportunity for you.
Hospital at Home provides the care and treatment patients expect in a hospital, in the place they call home. It brings together health professionals as a team and combines the latest health monitoring technology with the specialist knowledge and treatment of staff. Through this new way of working, patients will be able to access and receive the same level of care as if they were on a hospital ward. We call it 'the care of hospital, the comfort of home'.

Great training, a great starting salary, and the chance to build a career in care and make a difference. Join our Reablement team today.
We're looking for people like you who can join our social care team and work with people of Manchester who need our support to achieve their goals.
Our Reablement service transforms the way people with social care needs have those needs met. The team provides a life-changing service by helping people to be as independent as possible whilst remaining in their own homes. The team offer a range of flexible support in the home.
Please click here to learn more about our fantastic Reablement Team and view the current roles available.
Join our Amazing Adult Social Care Team!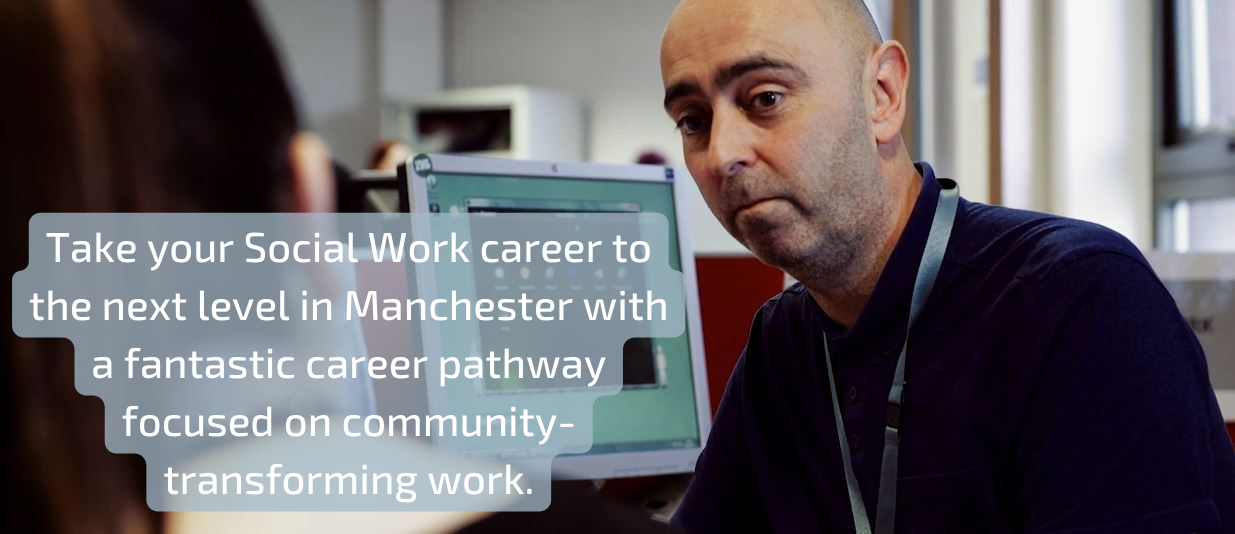 Whether you are starting out in your career as a Social Worker or you are looking for a next step, we want you to join our fantastic adult social care team in Manchester.
Social Work in Manchester is challenging and exciting. We are committed to growing, developing and retaining our workforce to meet that challenge and ensure working with us is rewarding and exciting. We have clear guidelines around reflective supervision and Continuing Professional Development – supporting workers to be the best that they can be at all times.
We're also transforming how we work in social care. Better Outcomes Better Lives (BOBL) is our long-term programme of practice-led change centred on achieving better life outcomes for the citizens of Manchester by working in a strength-based way.
Please click here to learn more about how Adult Social Care works in Manchester and view the current roles available.
Case studies from some of our staff in the LCOs