Providers
At MLCO we work with a wide range of providers. We commission services from providers in the care, voluntary and other sectors to support the citizens of Manchester.
We are committed to ensuring that all services we are responsible for providing are of the highest standard. In order to do that, we work in partnership with providers to look at how we can work together to best benefit the citizens we work for.
In this section of the website we are creating a range of resources aimed at our providers. This includes our new commissioning plan which sets out how we want to work moving forward and what our priorities are.
---
Our Commissioning Plan
MLCO published our Adult Social Care Commissioning Plan in Autumn 2021. The plan lays the groundwork for improving lives of Manchester citizens through implementation of a truly integrated, strengths-based system.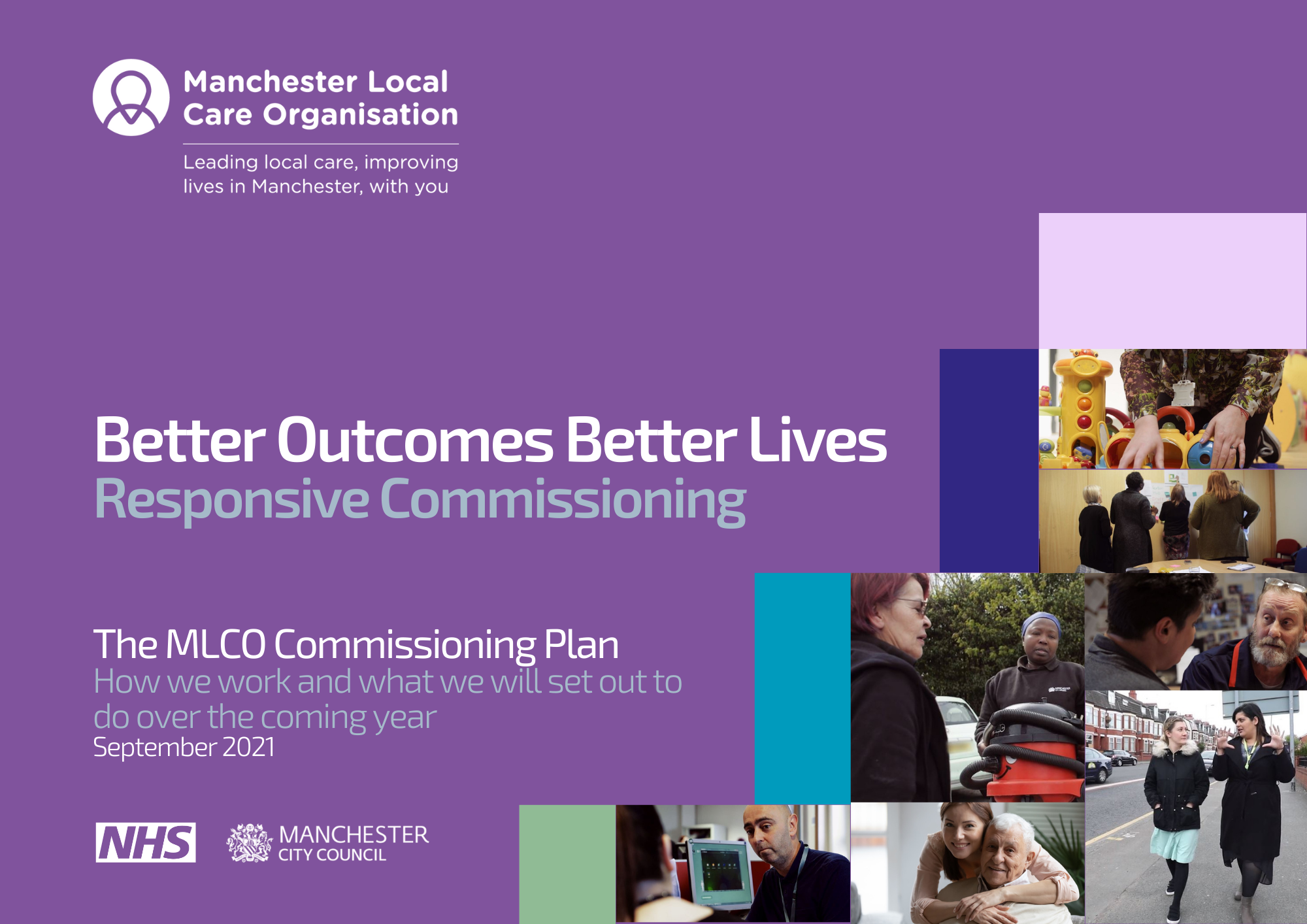 This plan is the start of the transition toward a new model of strengths based commissioning. It will help us take the first steps toward implementing our vision, design principles and workstreams – but we know that this will be a longer term journey. It will be how we innovate with providers and shape local markets to respond to the short, medium and long-term challenges that we collectively face as we recover from the Covid-19 pandemic.
It will help us grapple with an ever complex landscape, where we increasingly recognise that social determinants of health will be crucial not just to social care, but also to health services.
It outlines the eight priorities that will guide our work for its first 12 months, through to October 2022. These priorities are:
Putting prevention into practice
Contract management
Market development
Citizen commissioning
Flagship commissioning activities
Skills for strengths based commissioning
Community led commissioning
Building local good practice into business as usual
Manchester citizens, partners and providers can anticipate to hear more about the Plan, and its delivery over the next 12 months.
Fair Cost of Care
The Government's Department of Health and Social Care (DHSC) asked all local authorities responsible for adult social care to survey care homes for older people and home care services in their area about the costs of providing their services. The specific reason for carrying out these surveys in 2022 was the plan to change the statutory framework for adult social care in ways which would entitle anyone needing care home accommodation to ask the local authority to contract for this, regardless of their financial circumstances. After the survey was completed, and the results submitted to DHSC, it was announced that those reforms would be deferred for two years, and we are not certain whether they will now proceed in their original form.
The Council submitted in October 2022 the documents required by DHSC summarising the results of the 'fair cost of care' survey and explaining its current plans for assessing the fees required to sustain care homes and home care services. The submitted documents are available below. The Council are now publishing these documents in line with the revised guidance, since it understood that DHSC wished to review the submissions before publication, to ensure that the calculations included in them were robust and based on good quality evidence. Following the decision to defer the planned reforms, DHSC told local authorities they should publish their submitted survey findings by 1st February 2023 without waiting for approval of the documents.
The Council are also required to complete a Market Sustainability Plan. DHSC stated that the purpose of the plan is for local authorities to assess and demonstrate how they will ensure local care markets are sustainable, as they move towards implementing reform. DHSC have told us that we must produce a final Market Sustainability Plan on a different basis following the delay of the reform; we do not yet have final details of their expectations for that. They have also indicated that they may still ask some local authorities to review the documents about the survey that they have submitted. So far we have had no indication that they will ask us to review the documents below, but we will publish revised versions on this page if DHSC contact us and we conclude that we should make changes.
As explained in the documents about this exercise, our conclusion was that, while the surveys provided useful information about the costs of services, there were too many issues about the data for it to act directly as a guide to future fee levels. Our understanding is that a similar conclusion was reached by many other local authorities, though varying assumptions were made about how best to calculate the figures returned to DHSC.
Explanations of how these figures were calculated are included in two separate documents, one covering the survey of older people's care homes, the other the survey of home care services. The Council is currently reviewing the 2023/24 adult social care fee rates as part of its Annual Price Review Process.  New government guidance suggests that, despite a pause in the exercise, councils should continue to consider how they 'move towards' the Fair Cost of Care albeit 'more slowly'.  Therefore our 23/24 position is that the outcome of the exercise will inform our fee setting this year and that it will include an element of 'moving towards' the Fair Cost of Care as outlined in the below documents.  We will use the Adult Social Care Market Sustainability and Improvement Fund as part of the resources to support this move. The Council's intended approach to setting fees in future is outlined in the Market Sustainability Plan (below, published 27th March 2023).