LCO, NHS and Nuffield Health Launch Community Blood Pressure Programme
Manchester Local Care Organisation and the NHS have partnered with Nuffield Health to launch a new community-led blood pressure programme, raising awareness for over 5.5 million people in England who may be suffering from high blood pressure without showing any symptoms.
High blood pressure, or 'hypertension, can increase the risk of heart attacks, strokes and other health complications. This pilot programme seeks to raise awareness and offer local support to residents through free, community-based blood pressure tests, where attendees are also offered advice on lowering blood pressure.
Members of the local area, known as 'Community Champions', have been trained by Nuffield Health physiologists to provide them with the knowledge and skills to undertake these blood pressure checks and residents are invited to visit convenient locations for free across Openshaw, Beswick and Clayton.
To coincide with the launch of the awareness campaign, a large mural has been unveiled on Ruhston Road in Openshaw. Created by artists 'Oskar with a K' and 'Will Albin-Clark', the six-metre-high piece is inspired by genuine stories shared by the Community Champions.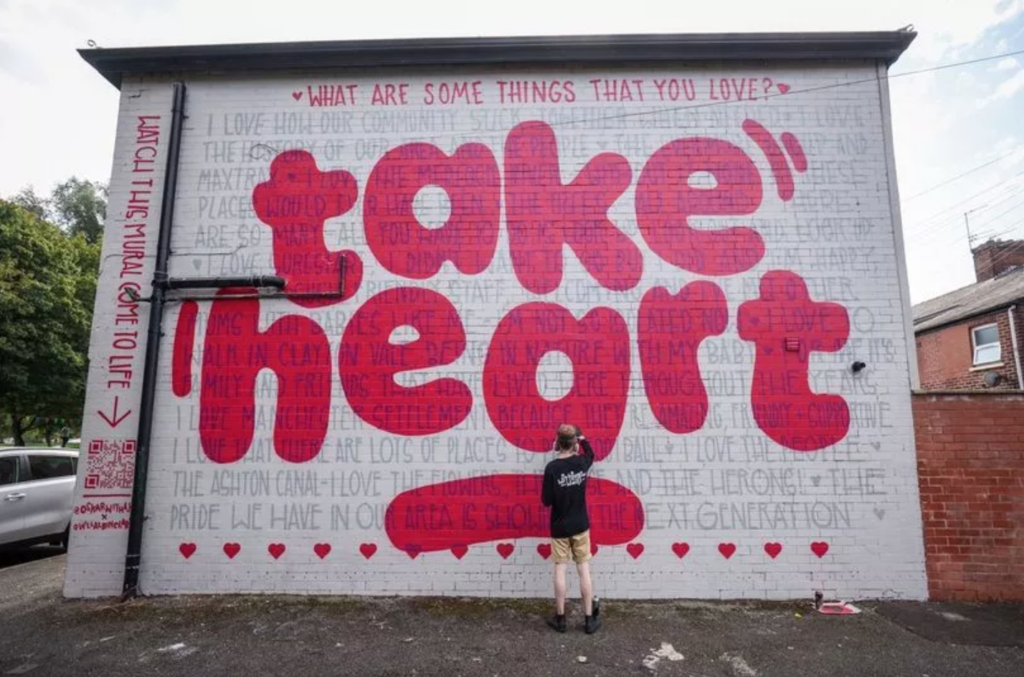 Image credit: James Speakman/PA Wire
The headline message, in vivid red letters, reads 'Take Heart' — encouraging residents to get their blood pressures checked. There's even a QR code on the piece that allows you to watch this important message come to life with animation.
Commenting on the programme, Vicky Fitzgerald, Health Improvement Lead at Nuffield Health, the UK's largest healthcare charity, said: "Reducing hypertension is currently an NHS priority, and our Community Blood Pressure initiative aims to address this by allowing local communities to access free blood pressure checks in community spaces.
"Working with the NHS and Manchester Local Care Organisation we've been able to train members of the local community, now known as our Community Champions, in Openshaw, Beswick and Clayton, to take these blood pressure readings.
"As a Charity, we are on a mission to drive both awareness and understanding of the health issues that are impacting the nation. Through this community-led initiative, we are aiming to not only increase awareness of those who may already be suffering with hypertension, but also deliver the means to try and prevent this number from rising further.
Angela Beacon, our Neighbourhood Lead for Bradford, Ancoats and Clayton, said: "Improving heart health across our communities is a key public health priority for Manchester. We know that high blood pressure (hypertension) rarely has any symptoms, but if left unchecked and untreated increases the risk of serious problems such as heart attacks and strokes.
"With residents in our neighbourhoods facing some of the poorest health outcomes, we know that we need to collaborate on innovative methods to improve heart health, through a lens of tackling health inequalities.
"Together with our communities, voluntary organisations and others working in the community we know that we can make good heart health a reality for more of us. Local solutions, such as this pilot in collaboration with Nuffield Health, gives an opportunity to develop clearer, trusted heart health pathways using language that communities understand, shifting not only how we think, but also how we act around our health and wellbeing."
Where to get your blood pressure taken
Community Champions have been professionally trained to offer blood pressure tests across Manchester. Residents are invited to visit them in a convenient place for a free reading.
To check your nearest location, please click the button below.