Neighbourhood Update – 6th September 2023: Didsbury, Burnage & Chorlton Park
Below you'll find our latest Neighbourhood update for Burnage, Didsbury and Chorlton Park. This includes training opportunities, events and health and wellbeing support.
Reminder: Our next Neighbourhood Partnership Meeting is on Thursday 7th September, 12:30pm – 3:00pm at St Barnabus Church Hall in Chorlton-cum-Hardy (M21 8DH).
"Have you got that back-to-school feeling?! September is also one for new starts and reconnecting – see below some info that may be of interest, especially our partnership meeting on Thursday!
Please also check out the 'action for happiness self-care September calendar' — which adds positive vibes to each day. Why not print it out and stick it on your fridge?
For any advice or queries within the area, please get in touch with me at fiona.vincer@nhs.net"
— Message from Fiona Vincer, Health Development Coordinator for Burnage, Didsbury & Chorlton Park
NEIGHBOURHOOD PARTNERSHIP MEETING REMINDER!
Date: Thursday 7th September
Time: 12:30 (lunch), 1:00pm – 3:00pm (Meeting)
Location: St Barnabus Church Hall, 4 Hurstville Rd, Chorlton-cum-Hardy, Manchester M21 8DH
Agenda: 
Presentation from Dan at Manchester Active
Neighbourhood Health and Wellbeing Funding – details on supported projects and discussions on where funding should go
Info sharing and networking – cost of living and winter planning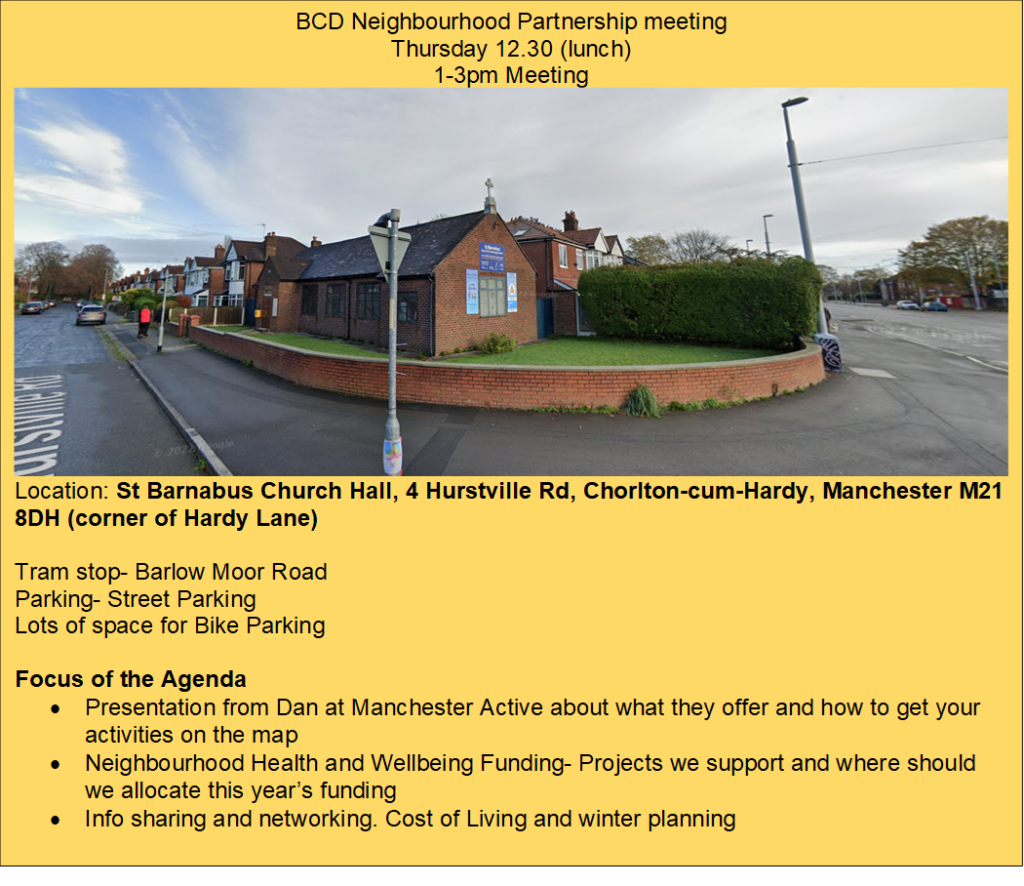 Together Dementia Training
Dementia training- Funded through our Mental Health Task team and Neighbourhood age-friendly funding (MCC).
Together Dementia training course on Tuesday 26 September. There are only a few places remaining, so please let me know (fiona.vincer@nhs.net) as soon as possible if you would like to reserve a place. Please take a look at the flyer here for further information.
Through September we will also have 15 places for online 1-2 hour dementia training that can be done in your own time so please let me know if you would like access to this it will be available to complete for 30 days.
LEVEL 2 Health and Nutrition Qualification at Didsbury Mosque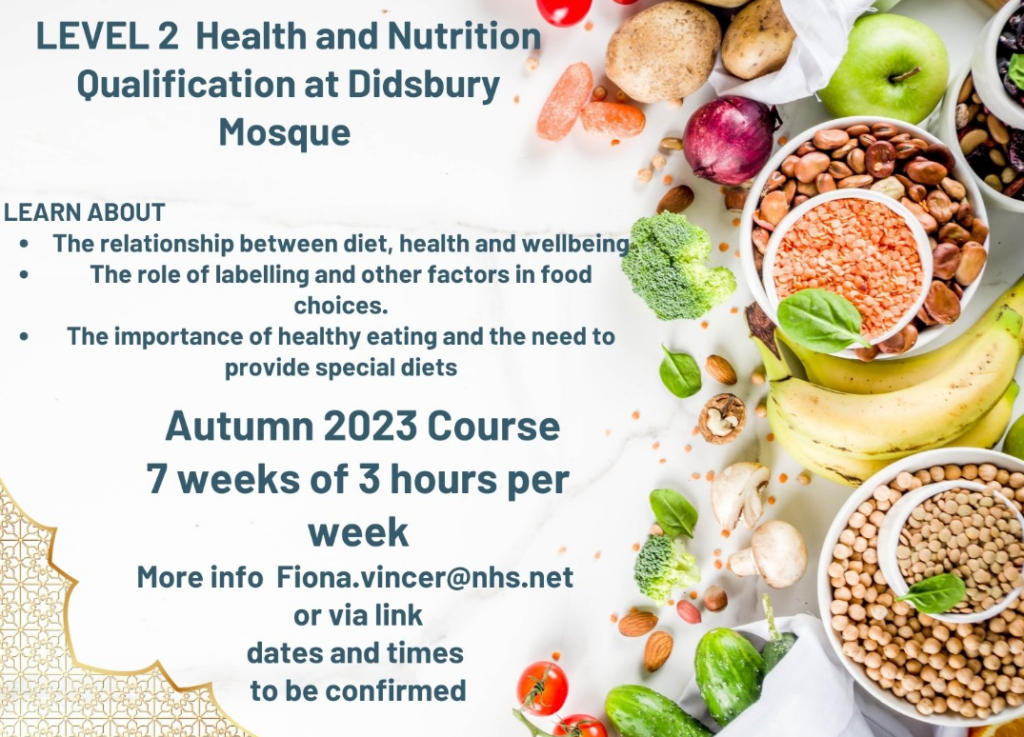 Would you like to learn more about the relationship between diet, health and wellbeing? Then please consider coming along to this educational Health and Nutrition course at Didsbury Mosque. As well as gaining a Level 2 Qualification, you'll also learn about:
The role of labelling and other factors in food choices
The importance of healthy eating and the need to provide special diets
The course will run three hours a week, over a seven-week period in Autumn 2023. Dates and times will be confirmed soon, but if you are interested please get in touch with Fiona:
Email: Fiona.vincer@nhs.net
Self-Care September 2023 Calendar
All too often we get so caught up in the trials and tribulations of daily life, that we forget to take care of ourselves. This attractive little calendar offers daily tips and encouragement to help you get a little bit more self-care this September.
Please take a look below and if you'd like to download a PDF to print out and stick on the fridge or tack up on the wall by your desk, please click here. [PDF approx 541KB]