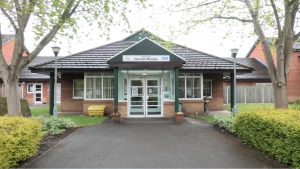 Dermot Murphy Close is a 22-bed NHS Continuing Healthcare unit for patients with complex physical health needs who need nursing or personal care.
The centre has 21 beds for long-stay residents and one respite bed for short-term care. It is set in its own quiet grounds in Withington on a quiet cul-de-sac.
Nursing staff provide specialist 24-hour nursing skills to a broad range of highly dependent people include those with severe multiple disabilities following an acquired brain or other complex injury or diagnosis with progressive neurological, respiratory, cardiac, renal musculoskeletal or gastrointestinal diseases.
The service is fully equipped to meet the needs of people with dementia and deliver end of life care.
The centre has support on hand from GPs and hospital consultants including emergency out of hours GP cover. Visiting health professionals include podiatrists, physiotherapists, occupational therapists, dieticians, and speech and language therapists, who provide advice and support for nursing staff as needed.
The service aims to prevent re-admission to hospital by providing nursing care and medical treatment on site.
Contact:
Tel: 0161 4453811
Address:
91 Dermot Murphy Close
Withington,
Manchester M20 1FQ
Video tour:
You can view a short video tour of Dermot Murphy Close by clicking here (opens in new tab).