Technology Enabled Care in Manchester
Technology enabled care (known as TEC or technology enabled care services) refers to a number of devices and apps that people can use to help them stay safe and independent at home, at work or within their local community. They are provided by Manchester City Council's Community Alarms and Technology Enabled Care Team (CATEC) which is part of Manchester Local Care Organisation.
TEC is a key part of our strategy to keep people independent as possible in the community. It can also help reduce the amount of face-to-face care someone needs while providing the reassurance to families and carers that they are safe.

You can download our new Technology Enabled Care brochure with all the items we offer here – Technology Enabled Care Brochure [PDF]
There is a range of technology available and what would be best for you depends on your circumstances. You can see them all in the brochure, however, our most popular options are:
Community alarm

This is a base unit that connects to a small device that can be worn discreetly around your wrist or neck. It can send alerts or call carers, family or the CATEC team if you need help in your own home. A community alarm can also link to other devices, such as a smoke alarm.
This is often used by people who are at risk of falls at home.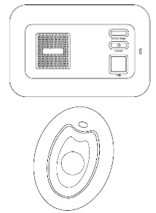 A black and white drawing of a community alarm device
GPS device 
A GPS device can be moved around and gives real-time location information. This means that if you get lost, you can be found by carers, family or the CATEC team.
This is often used by people with memory issues who would like to remain independent in their own home without worrying about getting lost.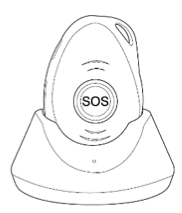 A black and white drawing of a GPS tracker
Household sensors
Household sensors can detect a variety of things, including movement, epileptic seizures, incontinence, floods, carbon monoxide and open doors. Sensors can automatically turn on lights to reduce the risk of falls and send alerts if you need support.
Household sensors also include JustChecking – a simple web-based activity monitoring system, using wireless sensors in the home to generate an activity chart, which can be used to support future decision making to promote independence.
Household sensors are often used by people who would like to remain independent but who need peace of mind for themselves and their loved ones.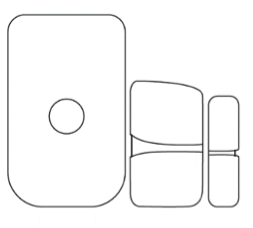 A black and white drawing of a household sensor
YOURmeds
YOURmeds is a portable medication dispenser that provides you with timed visual and audible reminders to take your medication. If a medication dose is missed, an alert is sent so you can be supported.
This is often used by people who sometimes forget to take their medication at the correct time.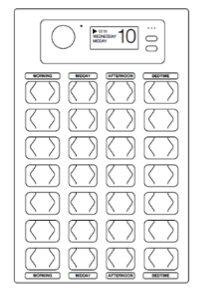 An image of the medication weekly pill organiser
What are the benefits of technology enabled care?
Our simple and easy-to-use devices can be useful for a range of situations. They offer several benefits such as:
They allow you to maintain your independence and keep you safe, alerting your carers, family or CATEC team when you need support.
They give your loved one's peace of mind, as they know you are safe.
They are inexpensive. Monitoring costs for community alarms start from £4.10 per week. The devices themselves are free.
They are easy to use and discreet.
Watch and listen to this video of David whose father Harry lives with Dementia. David explains how technology enabled care has helped Harry stay in his own home and out of hospital.
Referral process and contact information
For some of our devices you can self-refer. However, for others such as the GPS device, a referral from a health or social care professional is required. By health and care professional we mean a nurse, doctor (GP or consultant) or a social worker.
If you are interested in a TEC device, please contact the Manchester City Council Contact Centre on 0161 234 5001 or email at mcsreply@manchester.gov.uk
CATEC Team opening hours
The CATEC operate 24 hours a day, 365 days a year. They install, monitor and respond to devices.
Downloads
Video Guides
Use the below videos to help you learn more about the technology enabled care devices we have available. Craig from the CATEC explains the benefits and how they work.
Full playlist of Video Guides available here.
Page last reviewed: July 2023
Next review due: June 2024