Cost of Living Community Lunch – 1st March: Barlow Moor Community Association
When:
Wed 01 Mar 2023 at 12:00pm
Where:
Barlow Moor Community Association Centre, 23 Merseybank Avenue, Manchester, M21 7NT
Availability:
Pre-booking required (0161 446 4805)
Come along to BMCA Ltd community centre on Wednesday 1st March for a cost of living community lunch and get-together.
The event will feature food and refreshments, as well as signposting for local advice with bills, money worries and more.
When?
Where?
What time is the event?
How Can I Book?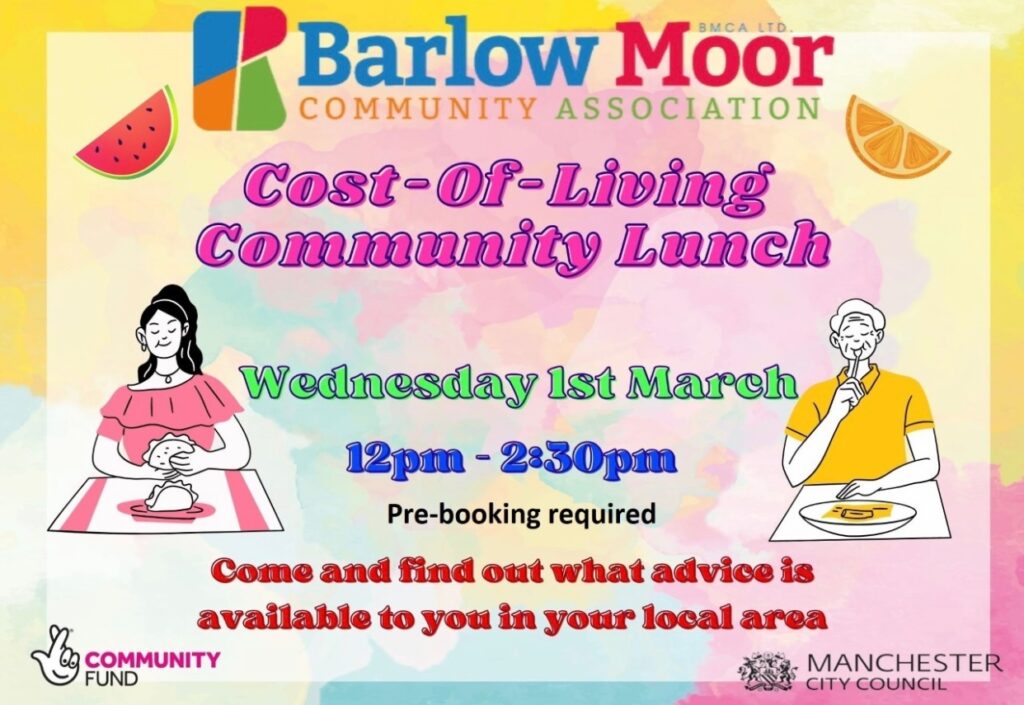 Winter Support Guide: Didsbury, Burnage & Chorlton Park
 
For further support and guidance this winter, we've produced a helpful booklet with local services available in the Didsbury, Chorlton Park & Burnage neighbourhoods. Within the guide you'll find support including food banks, warm hubs, befriending services and other local offers.
This guide complements the citywide support available through Manchester City Council's free cost of living advice line. The free telephone line offers support with benefits and help with your rent, advice about debt and paying bills , food support and help to get online (support to access the internet, laptops, phones and data).
The advice line is open Monday to Friday 9 am to 4.30 pm on 0800 023 2692. You can speak to someone about the support that is available. You can also text 07860 022 876 or visit manchester.gov.uk/coladvice